Branch Hydraulic Systems Supplying Two Hydraulic Power Units for the Industrial Mixer Manufacturer, Winkworth
Branch Hydraulic Systems, the specialist hydraulic power solution provider for the hydraulic industry have recently designed and supplied two hydraulic drive systems for Winkworth, the UK's leading industrial mixer manufacturer, for use in the waste and energetic materials sectors.
A division of the leading hydraulic and fluid power company, Group HES, Branch Hydraulic Systems (Branch) are responsible for the design, manufacture, installation, repair and service of hydraulic power units and systems. With an in-house design and engineering team, headed up by technical director, Alex Tatlow, the division was able to offer Winkworth a bespoke hydraulic power solution.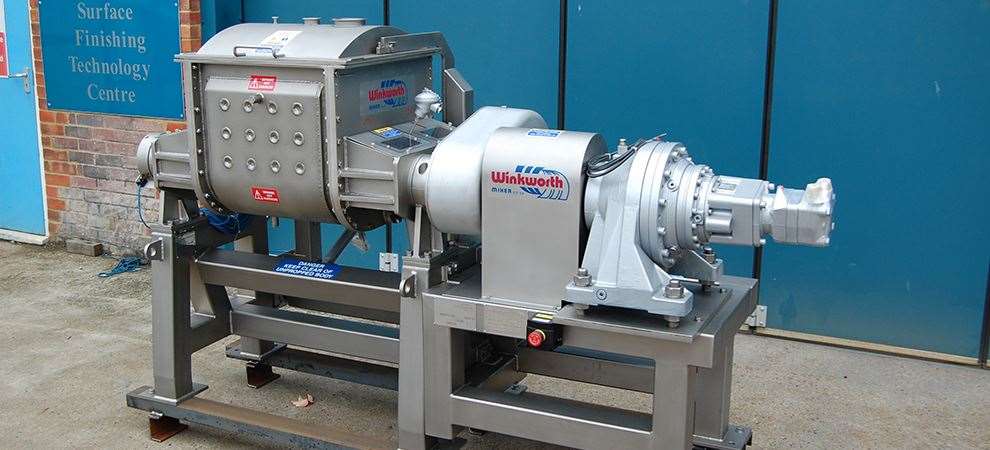 Commenting on the selection of Branch Hydraulic Systems, Tim Simpson, sales director for Winkworth said: "We wanted to work with a company that specialised in hydraulics, one that would be both responsive and helpful whilst ultimately providing a cost effective and efficient result. Having been in the industry for a number of years we were aware of Group HES and its ability to offer a total solution package – not just the gearboxes or the power units. Combined with the skill and technical expertise of Alex and his team we were confident that they were the supplier of choice."
With the first drive system being specified for a 450 litre twin blade waste and recycling mixer/extruder, it was imperative that it could offer increased power and efficiency, thus improving the rates of productivity and mixing. In replacing the existing dated and underpowered hydraulic unit Winkworth was able to benefit from a total power supply of 66kW – through a combination of three 22kW motors, thus meeting the tough requirements of the process.
Following an in-depth brief Branch Hydraulic Systems produced a number of CAD drawings detailing the proposed circuit design, taking into consideration manufacturing processes, performance and cost; once confirmed the necessary components were specified. With its ability to source parts from the Group HES network and the company's warehoused stock Branch Hydraulic Systems could minimise lead times and provide compatible parts.
To ensure optimum performance, Branch Hydraulic Systems specified a Comer planetary gearbox from its sister division, HES Tractec. The gearbox was then integrated with a hydraulic power unit that incorporated Parker load sensed, constant horsepower piston pumps and Sauer Danfoss proportional valves, to control both speed and torque.
Working with approved fabrication and electrical control specialists to complete the design process, the Branch team then began the complex task of building the drive system, working out of their workshop at the Group HES head office in Gloucester.
By designing and specifying the parts for both drive systems, Branch Hydraulic Systems were able to deliver the two hydraulic power systems within four weeks of one another. The second hydraulic power unit is more compact, offering an 11kW power supply, driving a single Comer foot-mounted planetary gearbox. Again, to optimise performance, the hydraulic power unit incorporated a Parker load sensed, constant horsepower piston pump and a Duplomatic proportional valve. The unit is to be fitted to a double Z blade mixer/ incorporator used to mix and incorporate a selection of hazardous fluids and powders, including explosives and propellants, known as energetic materials.
Even though the unit is to be positioned within a safe area, the hazardous zones surrounding it had to be considered during the design process; this included safety and remote operation of the unit, with alarm and shut down controls for high oil temperature, low oil level, blocked filtration and loss of hydraulic pressure.
Alex Tatlow, Branch Hydraulic Systems technical director said: "Winkworth's designs are renowned for being high quality, robust and reliable – a reputation that they are proud of and in selecting us they have allowed us to prove the efficiency and financial benefits of appointing a specialist company. Supported by a relevant and reliable network of divisions and suppliers, the completed drive systems show our capabilities as a group, designed by Branch Hydraulic Systems and manufactured, using HES Tractec and Hydraulic Equipment Supermarket (HES) supplied components, by Branch Hydraulic Systems and Group HES engineers and technicians.
"With discussions already underway for opportunities in the future we are looking forward to developing our relationship with Winkworth and proving our ability to provide further turnkey solutions," concluded Alex.
For more information about Branch Hydraulic Systems or to start your hydraulic power unit project email enquiries@grouphes.com , call 01452 730 562 or visit the Branch Hydraulic System' website.